Bio – Exhibitions – Events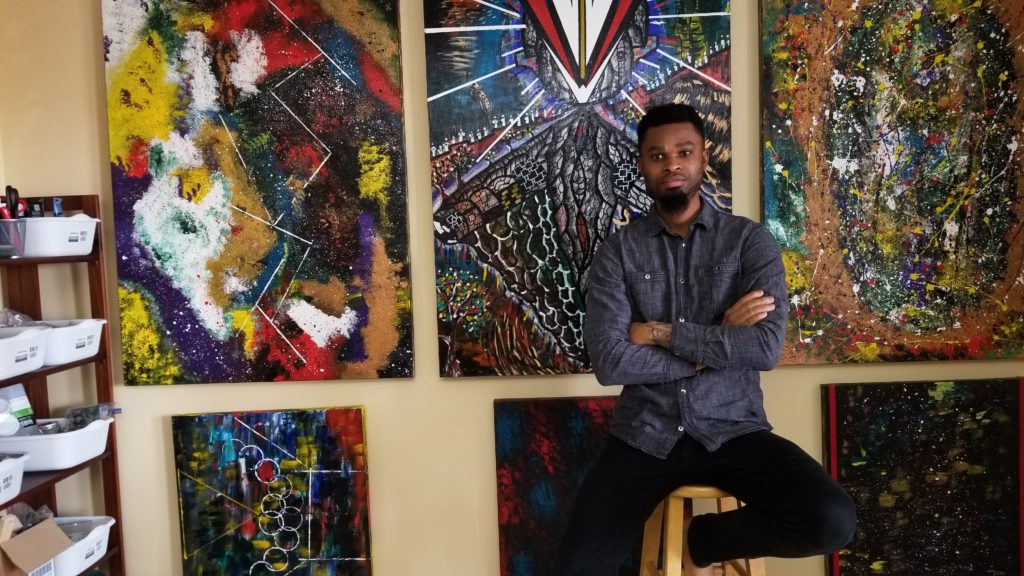 I'm Oyome Elo, a self-taught artist. I love the creative process and enjoy exploring diverse ways of expression. I believe we're many things and not limited to our jobs or even our experiences. Our life's journey offer an opportunity to discover those aspects of our selves we do not know exist. I feel my art is a complex multidimensional expression of many aspects of myself – serving a grander purpose beyond sustenance. I hope my art inspires others to embrace their creativity and personal sovereignty.
​ I work with mixed media, acrylics, charcoal, ink, pastel, etc. I utilize cradled wood panels of various sizes I build personally. These mediums offer me a wide range of exploration and I'm always looking for new and clever ways to expand my creativity. I sometimes begin without knowing how a piece will turn out but as always, I let my intuition be my guide.
​ I believe art is healing not just for the artist but for everyone and sharing art can be seen as offering gifts of healing. Art to me means living life on my terms, a life of calm and expansive growth, one that uplifts and inspires others to take responsibility for their lives and to tap into the universal creative energy that is ever so abundant amongst us all. I am humbled to be a conduit of this creative energy and grateful to share my art with the world.
Guest Artist, Cactus Wren Art Gallery
Tubac, AZ June 19, 2021
Spirit of Summer, Wheaton Arts Parade Gallery,
Wheaton, MD Jun 2022 – July 2022
Old Town Manassas Art Show and Craft Fair
Manassas, VA Oct 24, 2022
Festival, Wheaton Arts Parade Gallery,
Wheaton, MD Sep 25, 2022
Color Me Autumn Vintage & Handmade Market
Middleton, MD Oct 22, 2022
Holiday Crafts & Treats Fair, Manassas Museum
Manassas, VA Oct 29, 2022
Holiday Crafts & Treats Fair, Veterans Plaza,
Silver Spring, MD Oct 30, 2022
TrapXArt, Club Bellissimo,
Baltimore, MD Nov 17, 2022
​Upcoming Events